THE KAURI COAST ACCOMMODATION
List Accommodation for:
Northland
Bed and Breakfasts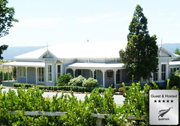 5 Star Luxury Lodge

For the discerning traveler, the five star, 120 year old Waipoua Lodge provides an historical location reflective of the kauri milling era. Home to many museum pieces these gracious surrounds enable guests to relax and enjoy the ambience of the lodge and it's historical past. The four accommodation suites are set in the old farm buildings enjoying views over the peaceful grounds in which guests can meander or explore the tranquil bush walk. The New Zealand hosts offer an a la carte menu prepared from local produce complimented by a range of fine New Zealand wines. The lodge is situated 1.3 kms south of the Waipoua Forest and close to the Kai Iwi lakes, the kiwi inhabited Trounson Forest, Maunganui Bluff Beach and the Hokianga Harbour.
Ian & Fran Farrant
, Owners & Hosts
4748 State Highway 12, RD6, Waipoua Forest, Kauri Coast

Ph: 09 439-0422
Luxury Lodge

Our luxury lodge is located opposite the beautiful Kai Iwi Lakes, otherwise known as Taharoa Domain. Approximately 25 minutes north of Dargaville, and a 3 hour drive from Auckland, passing Matakohe Museum, enroute to Trounson Kauri Park and Waipoua Forest on the Twin Coast Discovery Highway. Kai Iwi Lakes is a 538 Hectare reserve, comprising three clear fresh water lakes and white silica sand beaches. A perfect location for swimming and all water sports, or just relaxing. A 25 minute walk over neighbouring farmland takes you to Ripiro Beach, the longest in New Zealand. x
Ruby Martin
357 Kai Iwi Lakes Road, Dargaville, Kauri Coast

ALL LISTINGS
Bed and Breakfasts
Ph: 09 439 8200


122 Colville Road, Dargaville, Kauri Coast
Lynley Thompson Ph: 09 439 8200

Ph/Fax: 09 439 0878


Commercial Hotel Bed and Breakfast
Heritage listed riverside hotel built in1880's
75 River Road , Dargaville
Peter and Pam Kelly, Owner/hosts Ph: 09 439 0878 Mob: 027 314 6240

Ph: 022 061 6609


89 Colville Road, Dargaville
Carol Cooper-Taylor, Ms., Owner/Manager Mob: 022 061 6609
Ph/Fax: 09 439 5946


High Norton B&B
79 Norton Street, Te Kopuru, Kauri Coast
Annette Scarfe, 79 Norton Street Te Kopuru Ph/Fax: 09 439 5946

Ph: +0064 21 439 669
Fax: +0064 9 439 4662


34A/2 Ripiro Drive , Baylys Beach, Dargaville
Lorraine Davidson, Mrs., Host/Owner Mob: +0064 21 439 669
Ph: 09 439 6261


Bed and Breakfast
11 Meadow Park Drive , Dargaville, Dargaville
Linda & Chris Mob: 027 439 6166
Ph: 09 439 8081


Bed and Breakfast
12 Scottys Camp Road, , Dargaville
Sue Arnesen Ph: 021802527
Ph: 094316444


A friendly and quaint historic post office
3245 Paparoa-Oakleigh Rd, Paparoa, Kaipara
Deb Clapperton, Miss., Owner Mob: 0211627185